Bismuth (Bi) Granules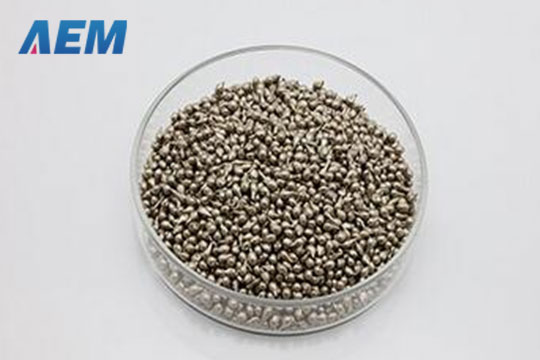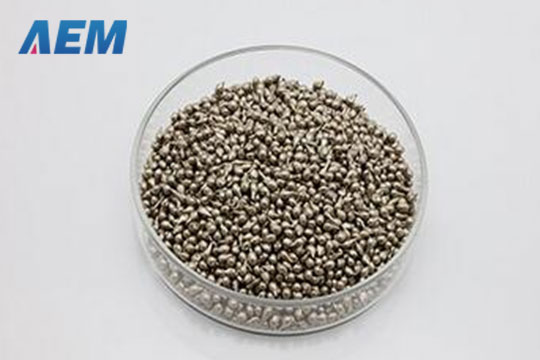 Introduction
Bismuth is a crystalline, brittle metal, with reddish tinge. Soluble in nitric and hydrochloric acids and highly diamagnetic (mass susceptibility -1.35 X 106), expands 3.3% on solidification. Bismuth is marginally radioactive and is the most naturally diamagnetic element. It has one of the lowest values of thermal conductivity among metals. It has a high electrical resistivity. Like water, bismuth is less dense as a solid than as a liquid (it expands as it cools), a property unique for a metal. These properties make the metal an ideal substitute for lead in everything from pipes and bullets to fishing weights and sprinkler triggers. Bismuth could be used in different fields, according to its purity. High purity bismuth is used to synthesize pharmaceutical chemicals, superconductive ceramics and oxide crystals for the production of bismuth ortho-germanate crystals.
Chemical Properties of Bismuth
| | |
| --- | --- |
| Atomic Symbol | Bi |
| Atomic Number | 83 |
| Atomic Weight | 208.98 |
| Density | 9.807 g/cm3 |
| Melting Point: | 271.3℃ |
| Boiling Point | 1560+/-5℃ |
| CAS No. | 7440-69-9 |
| EINECS No. | 231-177-4 |
Specifications
| | |
| --- | --- |
| Purity | 4N-5N |
| Size | 1-6 mm |
| Packing | 25 kg/ Drum |
Applications:
Bismuth (Bi) Granules used for preparing of bismuth compounds, low melting point alloys and flx, used for metallurgical addition and radiation protection products.
1. Bismuth metal: used as an additive in copper, aluminum, iron, and steel to toughen and make alloys that are more machinable, bismuth shot for shotgun ammunition, bismuth powder for radiation shielding in medical application.
2. Bismuth alloys: used as lens block or work holding for turbine blades, radiation shielding, tube bending, soldering, fusible alloys.
3. Bismuth oxides: glass, ceramics, varistor, arrestor, capacitor, ferrites, coatings.
4. Bismuth compounds: catalyst in coating industry, pigments, friction materials, catalyst in plastic industry, lubricants, cosmetics.
5. Bismuth pharmaceuticals: Several different Bi-based products are used for peptic ulcer, upset stomach, diarrhea, ointments, suppositories, and veterinary purposes.

Click to download datasheet about Bismuth (Bi) Granules

Unable to find the required data sheet? Click here to send an email and get it.

Click here to get answers to Frequently Asked Questions (FAQ).