Alumina Mortars & Pestles (Al2O3)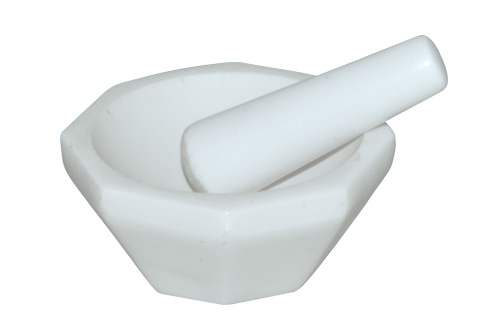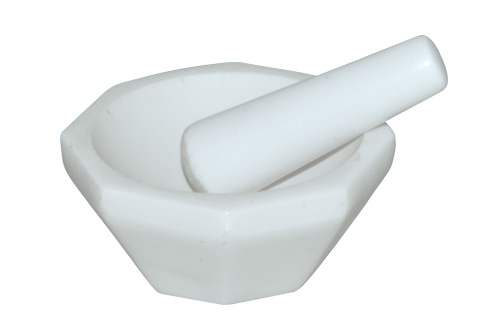 Alumina Mortars & Pestles
Alumina mortar and pestle sets are made of Aluminum Oxide ceramics. Alumina is a ceramic material with high thermal conductivity, compressive strength, wear resistance, and thermal shock resistance. It also has a low thermal expansion, so it is suitable for furnace use in the crucible, tube, and thermocouple sheath form. Alumina has high hardness and good wear resistance, so it is also a suitable material for ball valves, piston pumps, and deep drawing tools. It can also be easily combined with metals and other ceramic materials using brazing techniques and metalizing.
Alumina Mortars & Pestles Information
Composition
Al97
Al98
AL2O3 Content (%)
97
99.8
Color
White
Ivory
Tensile (
Kpsi)
30
32
Flexural (Kpsi)
55
60
Compressive (Kpsi)
300
330
Density (g/cc)
3.7
3.92
Hardness (HV, GPa)
13.8
18
Thermal Conductivity (W/(m K))
25
32
C.O.T.E. (In / In°C (x107))
77
78
Working Temperature (°C)
1500
1750
Dielectric Constant
9.5
9.8
Dielectric Strength (KV/mm)
16
20
Alumina Mortars & Pestles Applications
- Used for making parts for CVD, ion implants, photolithography, and semiconductor parts;
- In traditional industries, alumina ceramics are ideal for products such as injector tubes, gas nozzles, and insulators;
- Used as a material for industrial furnaces due to its ability to maintain its hardness at high temperatures;
- Used as a protector for high-temperature thermal couples;
- Used as a material for the chemical industry due to its high corrosion resistance.
Related Crucible of Alumina Mortars & Pestles
Related Products of Alumina Mortars & Pestles

Click to download datasheet about Alumina Mortars & Pestles (Al2O3)

Unable to find the required data sheet? Click here to send an email and get it.

Click here to get answers to Frequently Asked Questions (FAQ).